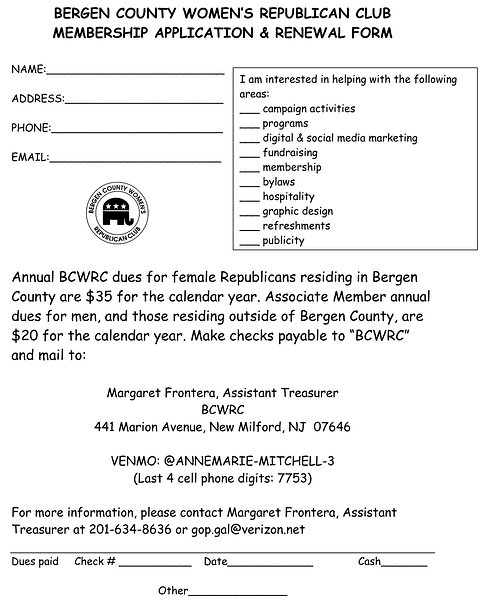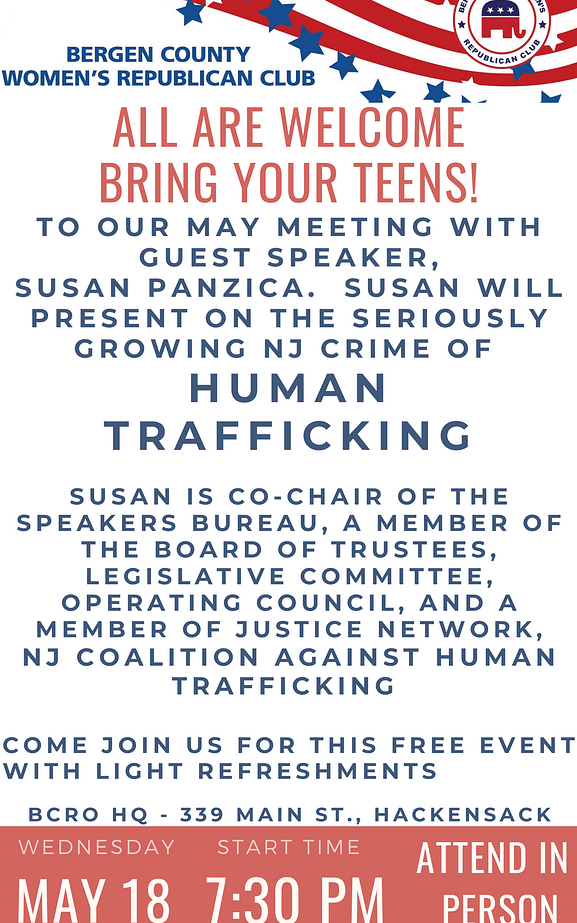 Ladies— we PRAISE you if you've submitted your petition! If you're a Republican woman running in Bergen County, and haven't paid your Club's membership dues, you're doing yourself a disservice as a candidate.
Our 99-year-old Club supports as many Bergen County Female candidates with some financial assistance, and postings for your campaign. A win-win to you!
Our Membership Form is to the left. $35 is our annual membership fee. Information can be found on the form and our Membership Chair's contact information for all questions.
Membership Information:
Dues are $35 for Bergen County Republican Women. You must be a registered Republican in Bergen County to qualify.
Associate Members (Men, or Women from other Counties) -- no voting capabilities: $20
*****************************************************
Email us at BergenWRC@gmail.com regarding membership, or pay via VENMO @AnneMarie-Mitchell-3
(a membership form is attached if you prefer to US Mail a check.)
Our Goals and Objectives are:
To encourage women of all ages to become active in the Republican Party, and to develop into political leaders.
To provide networking opportunities, virtual and in-person meetings, events, and volunteer opportunities to support Republicans in the election process at all levels of government.
To support the guiding principles of the Republican Party, and articulate our message to voters, and to elect qualified Republicans, for the betterment of our County, State, and Nation.
Founded in 1923, the BCWRC is the oldest women's political organization in New Jersey